 Pega TRAINING PARTNER
EXPERT CERTIFIED PEGA DEVELOPERS
SkillStorm helps you accelerate your critical technology initiatives by providing an exclusive, custom-trained pipeline of certified Pega talent at scale.
The Country's Top AWS Developers
Grow Your Tech Team With Our Exclusive Talent Pool
SkillStorm's workforce and talent development platform provide college graduates, transitioning service members, and military veterans with immersive training tailored to the specific needs of its clients preparing them to easily integrate with experienced teams and have an immediate impact.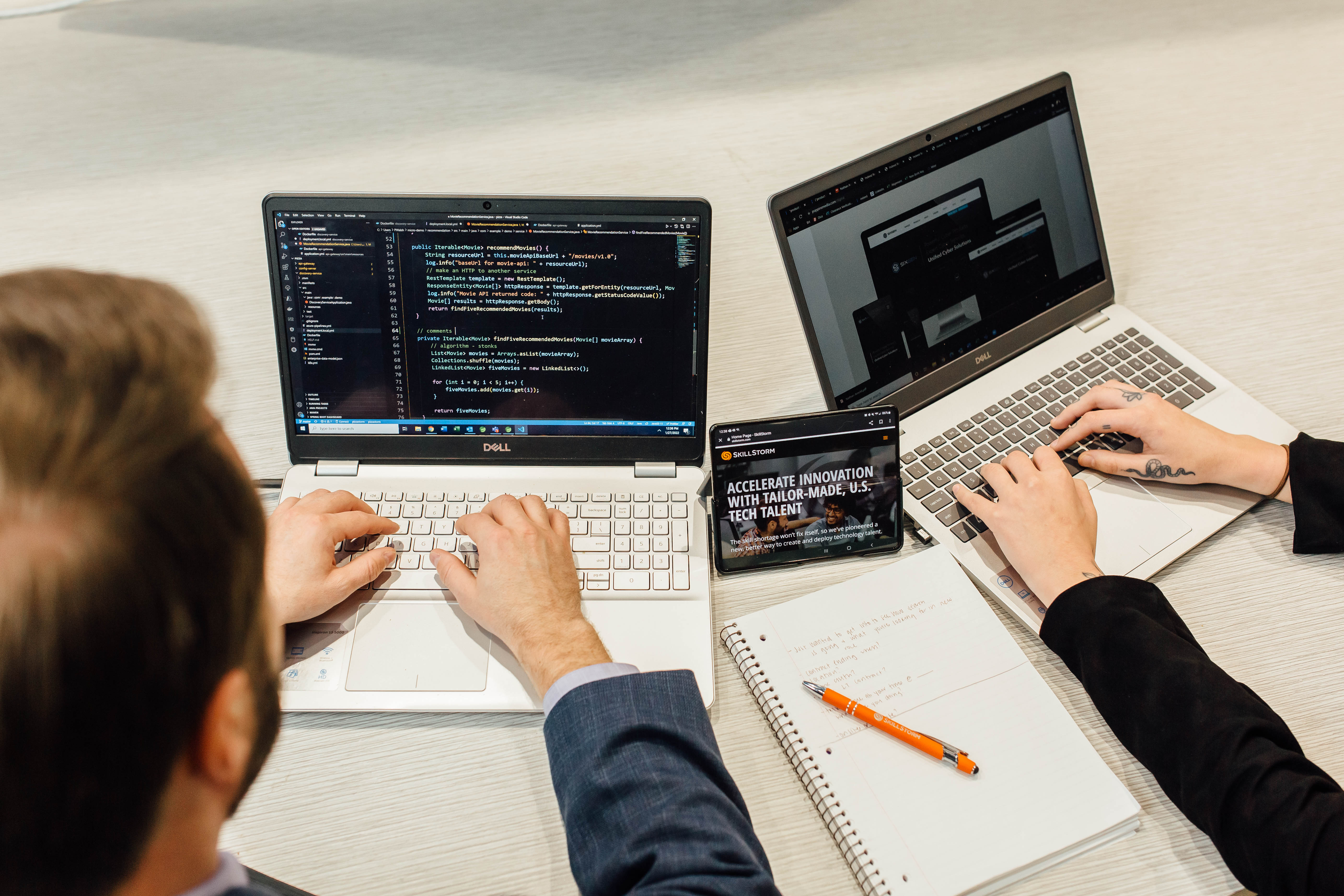 The SkillStorm Difference
We provide an exclusive pipeline of domestic talent, not available to the open market. Our certified Pega developers are hand-picked for your company and possess the skills and passion to accelerate your digital initiatives.

Our candidates include transitioning services members and veterans who have the security clearance to work with federal and government agencies.

SkillStorm's Pega developers enter a custom, immersive, training program. We find and train the candidates in-house, so we know they're qualified and ready to immediately apply their skills and provide value.

Ready to work
We connect our certified candidates with you only when they're ready to apply their skills, and not a second sooner.

CUSTOM UPSKILLING AND TRAINING
SkillStorm can help you diversify your tech talent pool giving you the ability to quickly build a pipeline of certified IT pro's. Our unique approach is designed to support different learning styles in order to accelerate our client's ability to improve productivity, retain critical domain knowledge, reduce turnover and costs and attract new talent.
"SkillStorm have been providing us with high quality entry level talent for some time, so when it came to upskilling our own workforce SkillStorm was a natural choice. More importantly, SkillStorm worked with us to provide a flexible training schedule that accommodated the needs of our dispersed teams and minimized impact to our existing deliverables.""

- VP of Workforce Intelligence
Needs Assessment: We work with you to identify your digital needs; whether you require project-based work or long-term work.

Handpicked Talent: Our team of industry experts selects the Pega developer(s) that best fits your requirements.

Get To Work: Our Pega-certified candidates are ready to work within 10-12 weeks.

© 2021 SkillStorm. All rights reserved.